The European Commission has approved under EU State aid rules an Important Project of Common European Interest ("IPCEI") jointly notified by Belgium, Finland, France, Germany, Italy, Poland and Sweden to support research and innovation in the common European priority area of batteries.
The seven Member States will provide in the coming years up to approximately €3.2 billion in funding for this project, which is expected to unlock an additional €5 billion in private investments. The completion of the overall project is planned for 2031 (with differing timelines for each sub-project).
Related Stories:
The largest battery energy storage system in New York installed
GM and LG Chem partner for $2.3bn EV battery mass-production plant
Elsewedy Electric to bring solar, storage to South Sudan
The project will involve 17 direct participants, mostly industrial actors, including small and medium-sized enterprises (SMEs), some of which with activities in more than one Member State.
The project participants and their partners will focus their work on four areas:
(1) Raw and advanced materials: The project aims to develop sustainable innovative processes allowing extraction, concentration, refining and purification of ores to generate high-purity raw materials. With respect to advanced materials (such as cathodes, anodes and electrolytes), the project aims to enhance existing materials or create new ones, to be used in innovative battery cells.
(2)  Cells and modules: The project aim to develop innovative cells and modules designed to meet the safety, and performance required for both automotive and non-automotive applications (e.g. stationary energy storage, power tools, etc.).
(4) Repurposing, recycling and refining: The project aims to design safe and innovative processes for collection, dismantling, repurposing, recycling and refining of recycled materials.
(3) Battery systems: The project aims to develop innovative battery systems including battery management software and algorithms as well as innovative test methods.
The direct participants will closely cooperate with each other and with over 70 external partners, such as SMEs and public research organisations across Europe.
Margrethe Vestager, executive vice-president "Europe fit for the Digital Age" and Commissioner in charge of competition policy, said: "Battery production in Europe is of strategic interest for our economy and society because of its potential in terms of clean mobility and energy, job creation, sustainability and competitiveness. Our Important Projects of Common European Interest smooth the way for public authorities and industries from several Member States to come together and design ambitious innovation projects with positive spill-over effects across industrial sectors and regions. The approved aid will ensure that this important project can go ahead without unduly distorting competition."
Following intensive technical discussions between the Commission and the relevant actors over a period of 3 months, the project was formally notified to the Commission for approval under EU State aid rules in October 2019. After notification, the Commission finalised its assessment and took its decision swiftly to ensure the fast and smooth implementation of the project.
Funding, beneficiaries and amounts
The project will involve 17 direct participants from the seven Member States, some of which will have activities in more than one Member State. The overall project should be completed by 2031 (with differing timelines for each sub-project).
The direct participants could receive up to approximately €3.2 billion in funding. More specifically, Belgium has sought approval to grant up to approximately €80 million; Finland up to approximately €30 million; France up to approximately €960 million; Germany up to approximately €1.25 billion; Italy up to approximately €570 million; Poland up to approximately €240 million and Sweden up to approximately €50 million. Nonetheless, a significant share of additional profits made by the participants will be shared with taxpayers through a claw-back mechanism. In other words, if the projects turn out to be successful, generating extra net revenues beyond projections, the companies will return part of the taxpayer money received to the respective Member States.
Read more of the latest smart energy storage news here.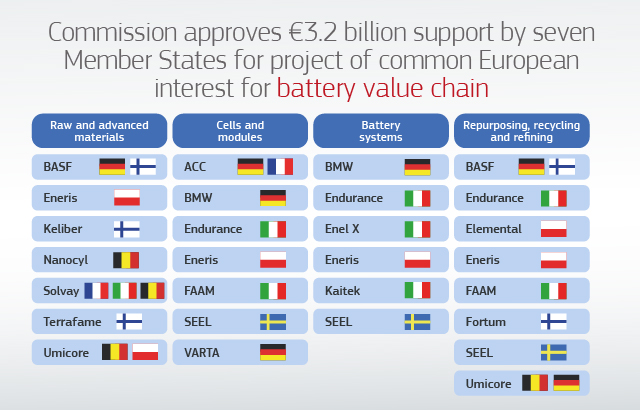 The non-confidential version of the decision will be made available under the case numbers SA.54793 (Belgium), SA.54801 (Germany), SA.54794 (France), SA.54806 (Italy), SA.54808 (Poland), SA.54796 (Sweden) and SA.54809 (Finland) in the State Aid Register on the competition website once any confidentiality issues have been resolved.
Enlit Europe will gather in Milan between 30 November and 02 December 2021 and will feature innovative companies accelerating decarbonisation at Europe's largest gathering of companies driving and leading the energy transition. Are you going to be there?
Click here to join us in Milan.