German renewable energy company SMA Solar Technology AG has launched its home energy storage system in Australia. 
Distributed through national solar provider Energy Matters, the Flexible Storage System consists of a battery inverter, a Speedwire data module, SMA energy meter and Sunny Home Manager.
The concept is compatible with most battery technologies (including lithium-ion) and any existing grid connect inverter.
How the storage system works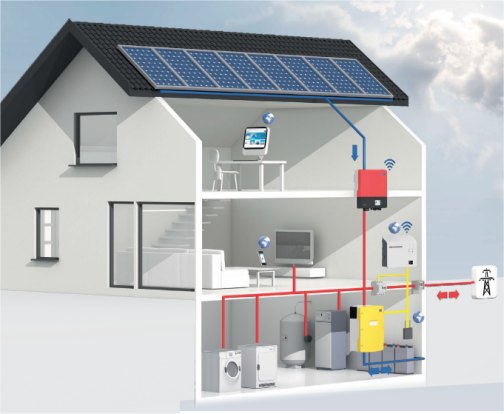 Using solar PV modules, the inverter converts the DC current produced by the solar panels to AC power for household use.
Any power not being used by household appliances is transmitted to the Sunny Island. The Sunny Island charges the batteries and claims to offer grid-quality power supply.
Power not being utilised by either the household or Sunny Island is exported to the mains grid.
At night, or when called upon, the Sunny Island converts the DC energy stored in the batteries back into AC power for use by the household.
The SMA energy meter communicates solar generation and consumption data via Speedwire to the Sunny Home Manager.
Home energy management
The Sunny Home Manager provides live data on electricity use to aid in smart energy management. Reports and visualisations of all the relevant electricity flows are displayed via a user-friendly interface, providing comprehensive and concise data.
Reports and data generated by the Sunny Home manager can be accessed on a PC or smartphone.
Read more: Threats to the utility market: how solar and energy storage will disrupt status quo