Renewable energy generation hit a new record in the US, with utility-scale solar, wind and hydropower overpowering coal generation from 25 March, until 03 May, according to preliminary figures from the EIA's Hourly Electric Grid Monitor.
The new record beats 2019's figures by 2 days, with 19 of the 38 also falling in April, however, the longest consecutive stretch was just 9 days.
Related Stories:
President Trump signs executive order protecting US bulk power system
US: Coronavirus to delay utility-scale solar projects even in 2021
US: Five ways COVID-19 could derail renewables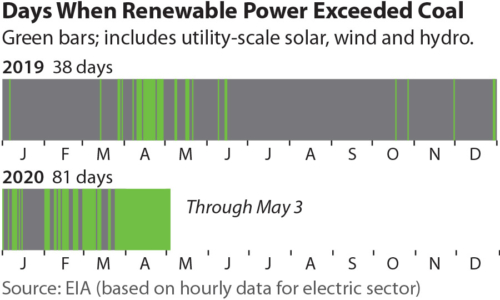 According to the IEEFA, the move from coal has accelerated due to a number of factors including warmer weather, increased grid-tied renewables capacity in the latter portion of 2019, and perhaps the deciding factor in 2020's results – the COVID-19 epidemic's effect on energy demand.
The IEEFA had forecasted that renewable energy would likely surpass coal power in 2021, however, the supercession could occur this year should renewables perform as strongly in the second half of the year.
January saw coal's market share drop below 20%, another unexpected and unprecedented event in the history of the US power industry, thanks in part to cost, but this was just the start as the fossil fuel's market share fell below 18% in March and to just 15.3% in April according to the EIA's report.